Tony Trahan and the BlueKrewe play a mix of Swampy Louisiana Roots Music straight from the Bayous of South Louisiana. Like a good Cajun Gumbo they like to add some different seasonings to the pot, so, while cooking they will add a pinch of Zesty Zydeco, some Cajun Injections, some Swampy Bayou Blues, a bit of Mardi Gras flavoring and a heaping helping of New Orleans Funk. All this is served up as a side dish, the main course is their Originals, a mix of Swamp Rockin' Blues and Funky Instrumentals... Cest' Bon, your taste buds are sure to be satisfied....iieee.

BlueKrewe founded by Tony Trahan who landed on the Colorado music scene in 1995 after relocating  from South Louisiana. Shortly after moving here he formed The Blue Advisory Band, mixing Rockin' Blues, Classic Rock and some Louisiana favorites. After several years of playing all the dive bars on the Front Range they recorded their "No Restrictions" CD. This CD was a mix of originals and covers from Miles Davis to Jimi Hendrix to the Neville Brothers, from some of the musicians of the bands past, present and future. Tony also recruited A.J.Primeaux, a Bayou Blaster bandmate from Louisiana, to sing and play harp on a few songs. Gaining momentum from the CD got them noticed by Fox radio DJ's Lewis and Floorwax (The Groove Hawgs), who invited them to play Hawgfest at Red Rocks Amphitheater and some Denver Bronco tailgate parties.

After several more best dive tours it was time for a change, so around 05' Tony re-grouped and re-named the band BlueKrewe. This lineup introduced the "Keyboardian" sounds of longtime Blue Advisory bandmate George Stone and added the Scrubboard and Percussion stylings from Trip Merklein, another Blue Advisory Alumni. To round out the band he added Harmonica on top of a solid new rhythm section. This lineup recorded a live CD on Mardi Gras of 07'

Over the years BlueKrewe has toured with and opened for Sonny Landreth, Marcia Ball, Karl Densons "Tiny Universe", some of the Carrier family...the late Zydeco Legend Roy Carrier, Dikki Du, and Dwight "Black Cat" Carrier. Anders Osborne, Joan Jett, Foghat, Steppin Wolf and others....

They have grown to be known as one of the best party bands around the Denver area, sometimes playing 4 and 5 hour sets without a break......... thus, the bands motto is .....you never stop a party in progress......Eh Tois. Their fanbase is always growing and they turn it up a notch by inviting their "Krewepies" onstage to play Scrubboards and Percussion. 

Come join in the fun on a stage near you!!!!
George Stone joined the Band in 97' when it was called "The Blue Advisory Band"  He was a big part of the growth of the Band from 97' to 2015. His energy was infectious and his knowledge and chops were tremendous. Leo Goya said it best during the celebration of life event for George by simply saying "He was one substantial dude".  George was a big part of the Music community along the front range for over 30 years playing in several Bands over the years. He was very comfortable in all types of Musical situations, he played Jazz, Fusion, Blues, Zydeco, Rock and Funk. Some of his Bands were Riff Raff, Phat Rabbit, Mothers Day Invention (a Frank Zappa tribute band) and of course BlueKrewe. George will always be in our minds and hearts every time we hit the stage.
Rest in Peace Brother!
T.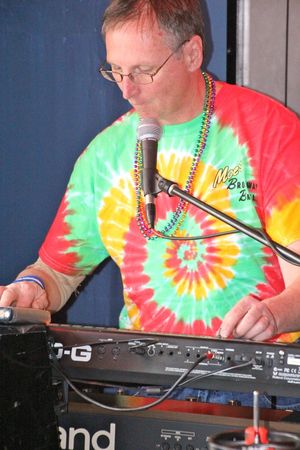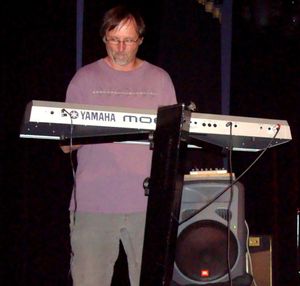 Tony "Bon Temps" Trahan ~ Guitar / Vocals
Tony Trahan originally from Lafayette, Louisiana, born in 1961. His musical journey began at birth, being born into a Cajun culture of rich musical history. His Grandfather, Willie Vincent was a Guitarist in the band Dixie Ramblers, who along with a few other local bands literally created the Cajun Music Genre back in the 20"s and 30's. Many of his Uncle's played either Accordian, Fiddle or Guitar at jam sessions during family reunions in South Louisiana.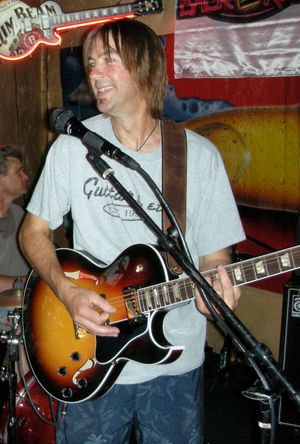 Tony says there was always music around the house and it was only a matter of time before he would begin playing music and exposing his roots. He owes it all to his parents for getting him his first electric guitar and putting up with the strange sounds coming out of the amps. Practicing alot, and alot of patience from his parents would eventually pay off for Tony over the years.
Playing and touring with some of South Louisiana's finest Cajun, Zydeco, Rock and Blues musicians would provide him the experience needed to bring part of his past to the future.
Tony has been banging it out in clubs for over 25 years. During that time he has toured the U.S. and Europe and has played many of South Louisiana's Clubs,  Dance Halls and Festivals with various bands and some of the local heroes. He formed the Bayou Blasters, a band that played there brand of Cajun Rock, and was a member of Lil' Bob and the Lolipops,
Lil' Bob, a Louisiana Swamp Pop Legend known for his R&B and Soul vocal stylings and his big hit 'I Got Loaded'.
Tony also joined the Classic Rock band called The RockHeads, who once played a six hour show performing the music from the Woodstock Festival. He recorded and toured Europe with La Compagnie Louisianaise, a Thirty piece Ensemble consisting of Singers, Dancers and Musicians performing musical skits of the Cajun Folklife. Tony likes the role of being a opening act, he says it gives the band a chance to bring their music to new audiences and venues. Over the years he has opened for Sonny Landreth, Marcia Ball, Wayne Toups, Shania Twain, Foghat, Molly Hatchet, Steppin Wolf, Henry Butler,
Joan Jet, Johnny Allan Gulliot and many others.
A graduate from the musical school of hard knocks, exposing his roots on a stage near you.
......Laissez Les Bon Temps Rouler.